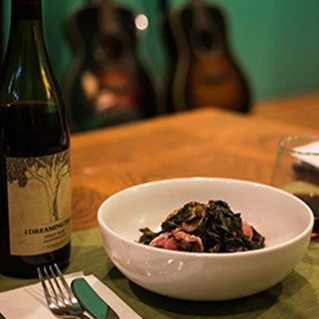 Blackberry & Apple Braised Greens
Chef Fiona prepared her Blackberry and Apple Braised Greens for Dave Matthews Band and crew in Bristow, VA. Mildly sweet, with just a flash of spice, this dish is the perfect accompaniment to any meal. At home, we recommend pairing the dish with The Dreaming Tree Pinot Noir.
Ingredients
---
1 bunch Swiss chard, remove stem and rough chop
1 bunch kale, remove stem and rough chop
1 bunch collard greens, remove stem and rough chop
1/2 head green cabbage, Savoy or Napa, remove stem and rough chop
1 1/2 cups apple cider
1 cup fresh blackberries
1 tablespoon ginger, grated
2 tablespoons extra virgin olive oil
1 white onion, thin sliced
1 large pinch of crushed red peppers (optional)
1/2 cup stock, vegetable, or chicken
3 tablespoons butter, extra virgin olive oil, or coconut oil
1 teaspoon salt
1/2 teaspoon black pepper
Instructions
---
In a large pot over medium heat add 2 tablespoons of olive oil, then sauté onions until translucent.
Add cider, berries, ginger, and a pinch of red pepper, if using; bring to a boil.
Add the cabbage, then the other greens, and the remaining ingredients.
Cover pot and cook for 5-10 minutes.
Carefully remove lid being cautious of the steam and gently flip the greens.
Replace cover and cook for another 10-15 minutes, until all greens are fully cooked. Season to taste.