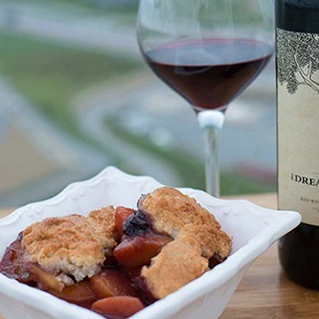 Peach-Berry Cobbler
In Atlanta, Chef Fiona savored the opportunity to use some fresh southern peaches to make her Peach-Berry Cobbler for DMB and crew. We suggest enjoying this dessert with The Dreaming Tree Crush Red Blend at home.
Ingredients
---
FILLING
3 pounds fresh peaches, peeled and sliced, see note*
1 pint berries, raspberries, blackberries and/or blueberries (can use a single berry or mix)
1/2 cup light brown sugar
2 tablespoons cornstarch
2 tablespoons white wine
Pinch of salt
TOPPING
1 1/2 cups all-purpose flour
1/3 cup sugar, plus 2 tablespoons reserved
1/2 teaspoon baking powder
1/2 teaspoon baking soda
1/2 teaspoon salt
1/2 teaspoon cinnamon
1/2 teaspoon ginger
6 tablespoons cold unsalted butter, cut into cubes
2/3 cup kefir, buttermilk, or heavy cream, plus 2 tablespoons reserved
1 teaspoon vanilla
Pinch of salt
Instructions
---
FILLING
Place all ingredients in a pot.
Heat over medium-high heat, stirring occasionally until mixture comes to a simmer and the liquid becomes clear, 5-10 minutes.
Turn off heat and carefully transfer to an 8x11/12 glass or ceramic pan.
TOPPING
Preheat oven to 375 degrees.
While the filling is heating, mix together all dry ingredients. If you have a food processor you can use this. Pulse the dry ingredients. Add the cubed butter and pulse until incorporated and you can't see any large chunks of butter.
Transfer to a bowl, add 2/3 cup kefir and vanilla, and gently mix with a wooden spoon until the batter just comes together
Using a spoon or your hands, take biscuits and place on top of the filling. The topping will cover most of the filling but make sure to leave small space between the biscuits to allow the heat to escape.
Brush tops of biscuits with reserved kefir and sprinkle with remaining sugar.
Bake for 40 minutes, until nicely browned and biscuits cooked through. Allow to cool for at least 30 minutes.
Notes
---
*NOTE: To peel peaches, cut an "x" in the bottom of the peach, just through the skin. Put in a pot of boiling water for about 20 seconds (you may need to do this in stages), then into ice water to cool. Skin should come off quite easily. If fresh peaches are not available you can use frozen. Defrost the peaches and follow the recipe from there.
Serve with ice cream.