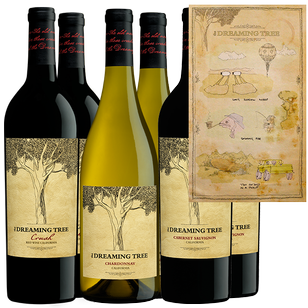 Each gift set includes:
2 Bottles of 2016 Chardonnay
2 Bottles of 2015 Cabernet Sauvignon
2 Bottles of 2015 Crush Red Blend
1 Limited Edition Dreaming Tree poster - A unique poster featuring original artwork by Dave Matthews

Product Reviews
Laurie Savastano
(Jul 31, 2016 at 10:42 PM)
Love the Crush. I bring a bottle to every gathering as a gift.
Benjamin Barthel
(Dec 11, 2016 at 8:20 AM)
Delighted to discover this encha ting blend being served at the Walton Arts Center in Fayetteville, Arkansas! Sending the Six Pack Gift Set to my Sister and her Husband in Florida to enjoy just in time for the Holidays.
Maureen McCarthy
(Apr 30, 2017 at 8:24 PM)
Dave Matthews Crush Ted wine is so delicious. A super smooth red blend with nice tannins! I love this wine very drinkable and a great wine for any occasion!
Patti
(Oct 25, 2017 at 11:45 AM)
Crush is my favorite. Super smooth and wonderful. I serve to my friends and they have all enjoyed immensely.
Caroline McAllan
(Dec 20, 2017 at 11:36 AM)
Crush is my favorite. I have turned this on to many friends who favor this wine as well.
Jill Elizabeth Sparks
(Apr 15, 2018 at 9:04 AM)
Love the Crush! Excellent!