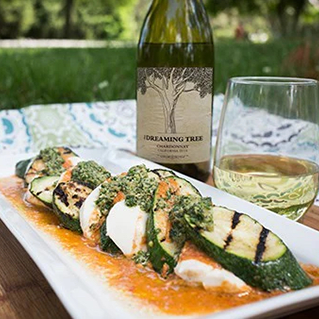 Grilled Zucchini Caprese with Tomato Vinaigrette & Basil-Walnut Pesto
In Saratoga Springs, NY, Chef Fiona served up Grilled Zucchini Caprese with a Tomato Vinaigrette and Basil-Walnut Pesto for Dave Matthews Band and crew. Try this recipe at home paired with the Dreaming Tree Chardonnay.
Ingredients
---
VINAIGRETTE
1 medium tomato, cut in chunks
1/3 clove garlic, crushed
1 cup balsamic vinegar
1 tablespoon dijon mustard
1 tablespoon honey
1/2 cup extra virgin olive oil
1 large pinch of salt
1 large pinch of pepper
PESTO
1 bunch basil, picked
1/2 bunch parsley, picked
1/2 cup walnuts, toasted
1 clove garlic, crushed
2 lemons, juiced
1/2 cup extra virgin olive oil
1/4 cup parmesan, grated
Salt and black pepper to taste
ZUCCHINI
2 zucchinis, large, cut in 1-inch slice
3 tablespoons extra virgin olive oil
Salt and pepper to taste
2 1-pound balls fresh mozzarella, cut in 1/2 inch slices
Instructions
---
VINAIGRETTE
Place all ingredients, except oil, in a blender.
Start on low and slowly increase speed until blended.
Slowly pour in the oil.
Season to taste with salt and pepper and set aside.
PESTO
Place all ingredients, except parmesan, in a food processor.
Pulse ingredients until the ingredients incorporate and look like a chunky paste.
Transfer to a bowl and mix in parmesan.
Season to taste and set aside.
ZUCCHINI
Heat grill over medium-high.
Drizzle zucchini with olive oil, salt, and pepper.
Grill each side for 2-3 minutes per side, until nice marks are present but the zucchini is still somewhat firm.
Layer slices of zucchini and mozzarella, spoon vinaigrette over top, then drizzle with pesto.
Notes
---
All steps can be done ahead of time, assemble just before serving. For assembly, use a platter or plate with raised sides.